Interactive dancing and pedaling for juice get passengers to move about in Luz station
By Lucas Veloso, from Agência Mural*
On Challenge Day, the general public that passed through the station experienced dance and cycling in an unusual way
Victor Santos, a 20-year-old student, was returning from his English course when he saw a circle of people inside Luz station, in the center of São Paulo. Without knowing what was happening, he came up with a way to fit in with his wheelchair and get involved in the activity "Game, body and sound", proposed by the urban dance group Zumb.boys.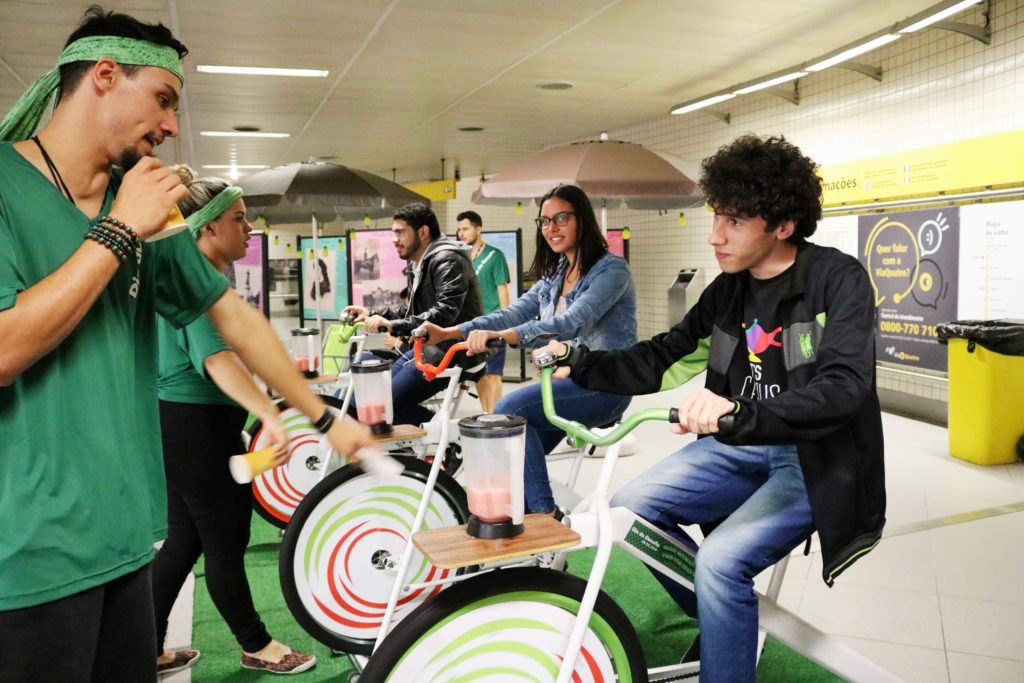 Victor Santos besides the dancer Danilo Nonato trying out different ways to move the body with the dance. Credits: Ira Romão/Agência Mural 
This was one of two activities that took place during Challenge Day, held on 29th May, with activities in more than 3600 cities across the American continent. Santos, one of the first people to arrive, danced, entertained the crowd and was applauded afterwards. "I really loved it, I enjoy dancing and I think they should do this every day", he says jokingly.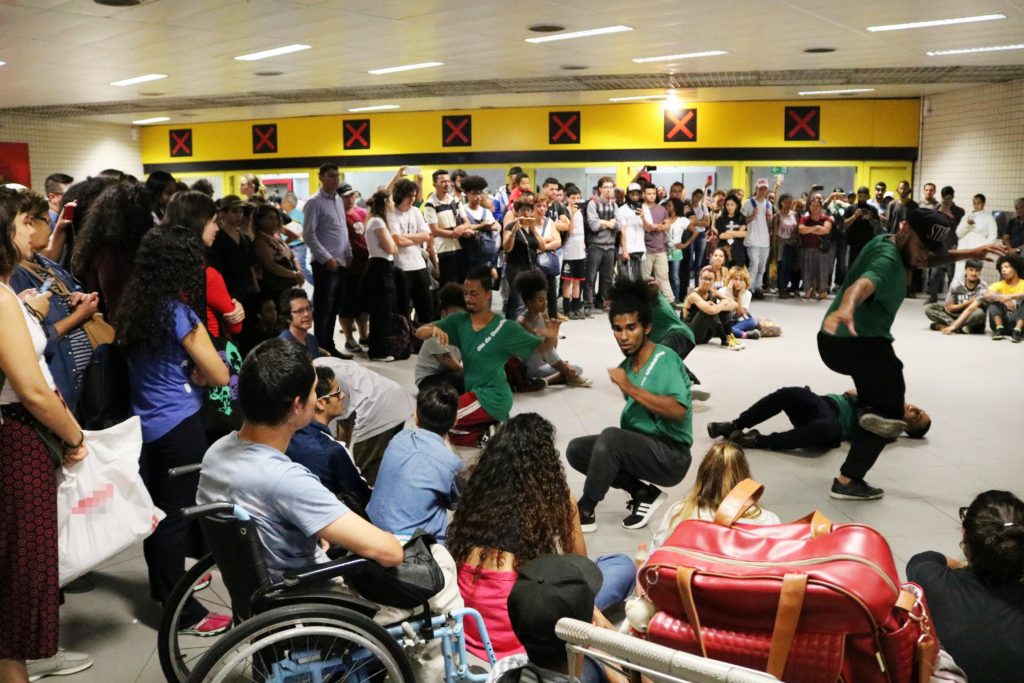 In a circle the activity invited everyone to relax and be at ease to get involved. Credits: Ira Romão/Agência Mural 
For the 26-year-old dancer of the group, Danilo Novato, physical activity enables non-athletes to experience something new, regardless of their physical or psychological condition. "The challenge here was to create a story with other people. The curiosity is always the first step to start an exercise routine", he reflects. 
The 16-year-old student, Sarah Vianna, who also joined the circle, shared her thoughts. "It was really interesting because an activity, such as this one, can even change the minds of the people, bringing and discovering new things".
Pedaling for a juice
In another part of the station, you had to pedal on a bicycle for 30 seconds, to complete the challenge and drink a natural juice. As the people pedaled, the juice was beaten with the energy generated by the bike on the cup of an attached blender.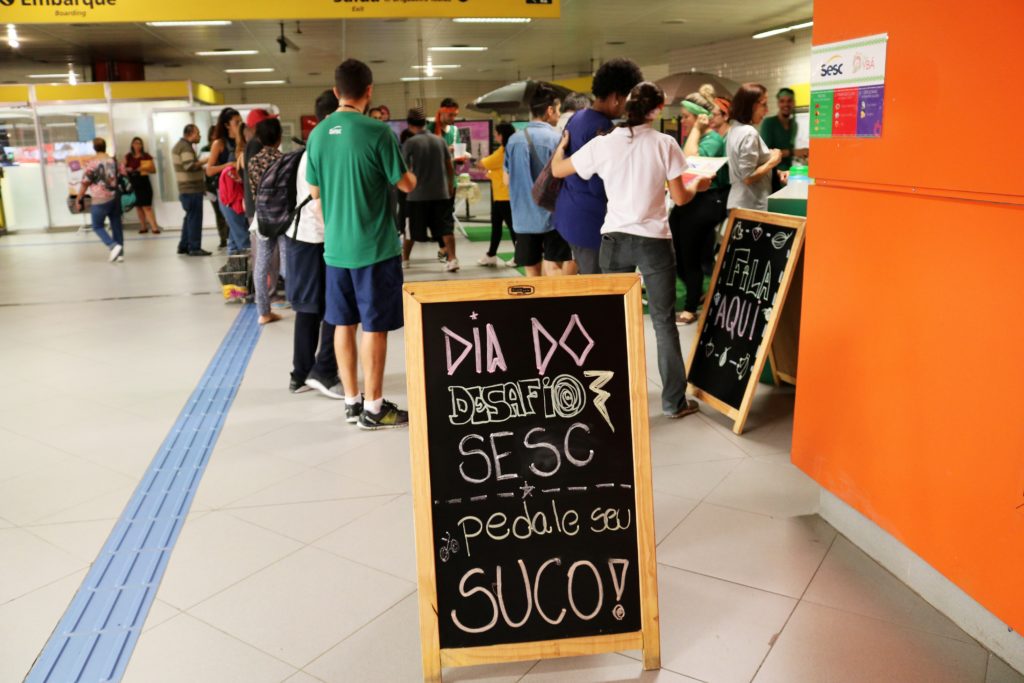 400 people made the most of their fare to try out pedaling. Credits: Ira Romão/Agência Mural
After making the juice, the 24-year-old nursery schoolteacher, Beatriz Varjão, recalled that her bronchitis flare-ups could be avoided with more physical activities. "I should do it more often in order to improve my health. At the moment it isn't part of my day-to-day life", she ponders. "But you have to practice, that is the advice I'll give. Also, the actions during Challenge Day are an important reminder", she concludes.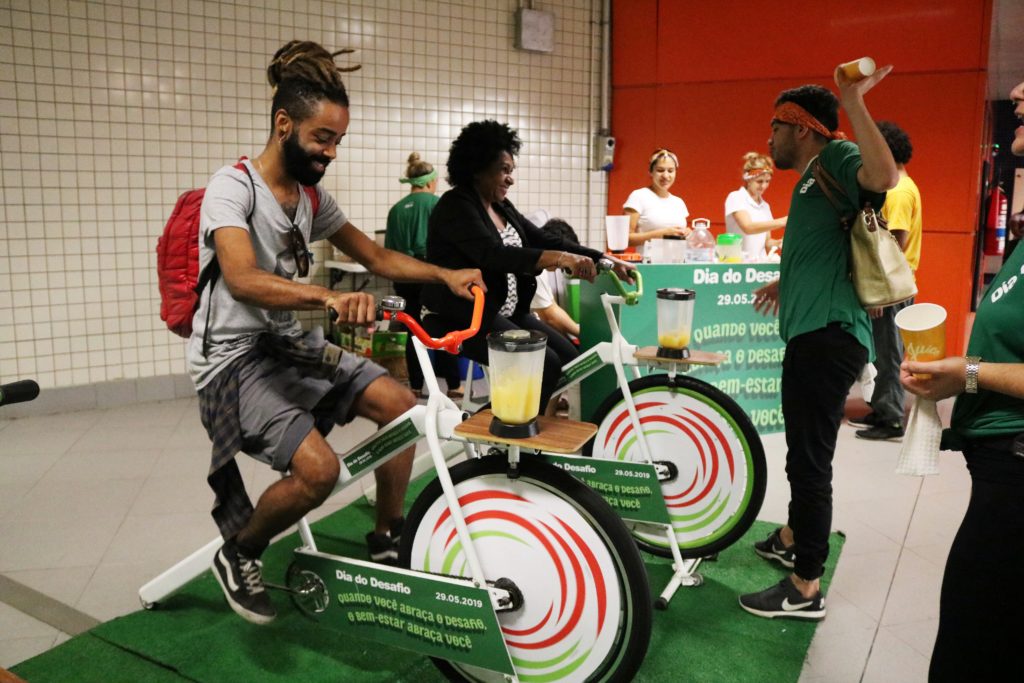 The unusual and fun experience transformed the energy created from pedaling into a beaten juice instantly. Credits: Ira Romão/Agência Mural 
Overall, 400 juices were made throughout the day. The fruit options were mango, banana, orange and strawberry, which could also be mixed. Two types of sugar and honey were used to sweeten the drinks, as well as coconut shavings and ginger. 
The 23-year-old teacher, Gisele Rodrigues, was returning from work and decided to take a peek. She got into the queue, pedaled and won her juice. "What I did here was a motivation. I got tired of pedaling", she comments whilst laughing. "Our health is the greatest treasure, so we must look after it, otherwise it could be too late", she advises. 
The opportunity to have experiences such as this one could be a lot closer than you think! Have a go taking part in Challenge Day. The campaign takes place every year on the last Wednesday of May. There are over 3 thousand cities that get involved, both in Brazil and in 13 countries of the American continent such as Argentina, Chile, Cuba, Mexico, Dominican Republic, Uruguay and Venezuela. Find out more!
*Series of reports produced by Agência Mural de Jornal das Periferias, whose mission is to minimize the existing gap of information and contribute to the deconstruction of stereotypes about the peripheries of Greater São Paulo.